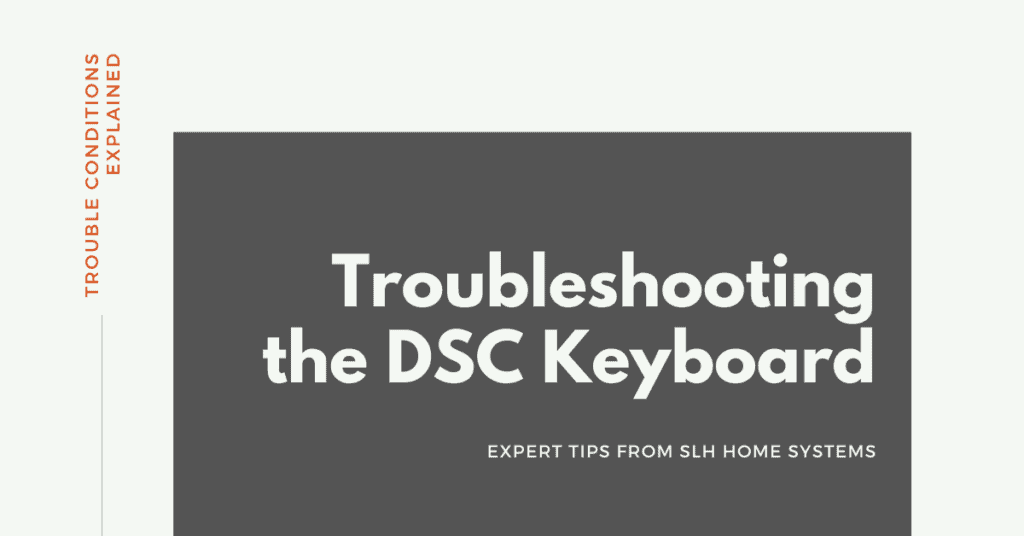 Home security keypads have various settings and trouble conditions that can arise. In this blog post, we cover many of the most common trouble conditions that may need to be set or reset on your DSC keypad.  Identifying these trouble conditions can save you time by fixing them yourself.
Your Light Is On – Here's How to Identify What The Trouble Is
When a trouble light comes on your keypad, you want to identify what the trouble is so you can accurately address the trouble.  The system will beep every 10 seconds with a trouble light on.  Pressing # will silence the beeping.  Within a few quick touches on the keypad, you will have the trouble identified.   Watch this short video for a walk-through of the steps.  Note – if your alarm panel does have a trouble light on, your alarm will still work.
Once you have silenced the beeping, pressing *2 will bring up a list of numbers on the keypad. Below are a few common trouble light issues that are easily fixed.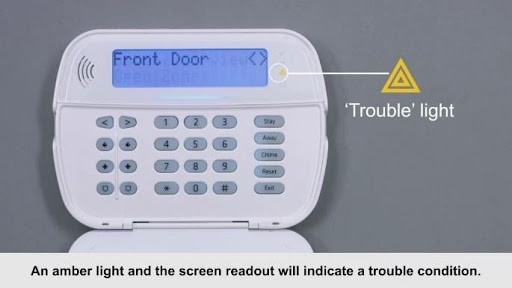 Replacing the alarm battery
If a number 1 is on your panel then the battery needs to be replaced. The battery is located in the alarm panel or inside a media enclosure in the mechanical room. A replacement battery can be purchased at any battery store.
Setting Time & Date
Another trouble condition on the DSC keypads is setting or resetting the time and date. Watch this video for instructions on how to set date and time in a few simple steps. Reminder – the time is set in military time.
Alarm Smoke Detectors vs. Smoke Detectors Installed by Electricians
A quick note about smoke detectors that are going off in error. A smoke detector installed by an electrician that is going off in error will require you to contact your electrician. The easiest way to determine this is to listen to the sounds the alarm is making.  New smoke detectors installed by electricians have a voice as the sound that speaks out words. So, if you hear words coming from your smoke detector, contact an electrician.
Smoke detectors that are connected to your alarm system will always display low battery and other alerts on the keypad. Note that in the event of a fire, smoke detectors connected to your security system will display fire on the keyboard and the siren will be going off.
Bypassing Zones
Bypassing zones can come in handy for a lot of different situations. If you leave the house and want to leave a window open or if the trouble light is on and you don't have time to fix it, bypassing that zone will come in handy. Here is a short video to explain how to bypass zones.
More Questions? Contact SLH, Your Twin Cities Resource For Home Security Systems & Alarms
If you are unable to work through any of these steps with your keypad – don't worry! We are just a phone call away to set up a service call and get it all taken care of for you. If possible, we will walk you through the steps over the phone or we may have to set up a service call with a technician.
SLH Home Systems has been a trusted home security, alarm, and home automation expert serving Twin Cities area for 34+ years. Contact us today. We are happy to sit down with you for a free in-home consultation to answer all of your questions and educate you further on the various factors that distinguish one security & alarm system from another. We specialize in tailoring electronics systems to meet each client's needs and wishes while providing up-to-date information, advice, technology, and installation. In addition to our expertise in home security system design & installation, we also provide energy management services, home theater design & installation, home automation and lighting, and shade control.