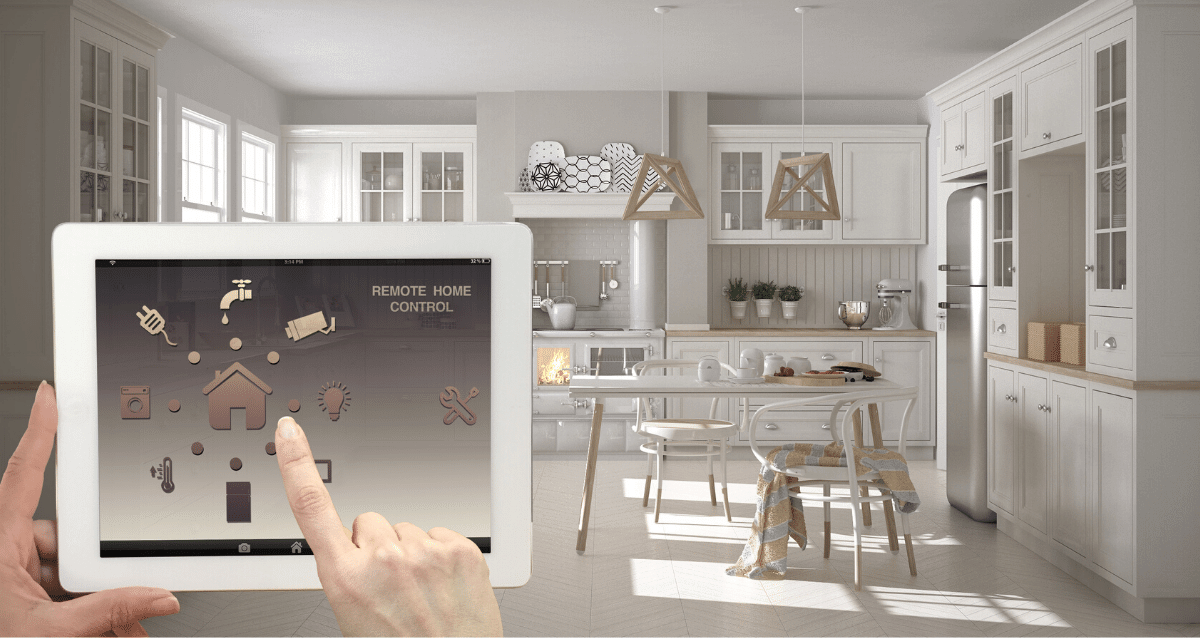 Smart home automation is all the buzz these days.  Builders, remodelers, and homeowners alike love the time-saving conveniences and swoon-worthy, bells-and-whistles that make them proud to show off the latest innovations in their newly constructed or remodeled home.
But with all the developing trends and new features in home automation technology, it can be hard for builders and remodelers to stay on top of it all and feel confident when presenting the latest options to clients.  Equally as challenging?  Thinking about the home design implications as smart home technology evolves.
Getting Smart about Smart Home Automation
SLH and Che Bella Interiors have teamed up to help you stay ahead when it comes to smart home automation. We're sharing our insights and experience on homeowner options for investing in smart home technology, along with a checklist of the design considerations you'll need to incorporate.
Options Galore for Smart Home Technology
Lights, security, music, theatre, in-yard sprinklers? Smart home automation can do it all.  We've seen it all, sensed it all, and wired it all, and we're here to guide you through the latest trends and options in smart home technology. Here's what you need to know.
Security is Paramount.  One thing that almost everyone can agree on is that the safety and security of their families is their highest priority.  Today's homeowners are looking for security features that offer them peace of mind – whether it's being able to view live or recorded security camera feeds from their smartphones, being confident that windows and doors are securely closed, or receiving alerts about unusual activity on their property. People want home security at their fingertips.
 Design tip:  Consider how and where you want to incorporate cameras into the exterior of a home.  Are you looking for cameras that blend in seamlessly or do you want to make a statement by keeping cameras front and center? Where should you position cameras for maximizing coverage? Partnering with an expert in home automation and design can help you make smart (pardon the pun), cost-effective decisions about wiring for security during the design process.
Savor the Sensory.  Feeling comfortable in their own home is a non-negotiable for today's homeowner. Thanks to smart home technology, homeowners can control their environment from inside or outside the home.  From adjusting the temperature and humidity to turning lights on and off to switching on or off the fireplace, home automation makes it easy to create the ideal home environment with just the click of a button or a swipe of the phone. These automation features can even be timed based on the homeowner's personal preferences, schedule, or vacation plans. It's all about customizing a home's technology to the needs and lifestyle of the people who live there.
 Design tip:  Does your family have a difference of opinion when it comes to climate control?  With room-by-room temperature readings, Mom can stay warm and cozy in the sunroom while teens keep it cool in the lower level – without adding a separate HVAC system. Talk to an interior designer about the best spot to incorporate temperature sensors into the home. There are discreet ways to place temperature sensors within a space so they don't detract from the aesthetics of the design.
Protect the Planet.   Homeowners are looking to smart home technology to help them maximize energy resources and efficiency. Sprinkler systems can be automated based on weather conditions to optimize water usage. Thermostats can be programmed to deliver precise heating and cooling as its needed. Automated window shades help take advantage of the sun's rays while keeping chilly drafts at bay during the night. Even lighting can be controlled with a single button, so no one has to wonder if the kids turned off the basement lights. Home automation can even make homeowners more aware of the energy they use, thanks to energy management systems that monitor and manage energy usage.
Design tip:  Did you know automated window shades not only help with energy efficiency but can also protect beloved furnishings and treasured paintings from fading? Talk to us about discreet and cost-effective wiring solutions for automated shading. It's important to incorporate wiring needs during the design and space planning process – before any work gets underway.
Make the Most of Time with Family and Friends.  Today's fast-paced world can leave anyone feeling frenzied, making it all the more important for homes today to be a place where family and friends can gather and spend quality time together. Thanks to whole-house audio/video automation, families can enjoy cinema-quality home theater from the comfort of their couch. Homeowners can control their high-tech 4k projector, automate the lights to dim at showtime, or play pre-show tunes via their favorite wireless stereo system – all from a single remote. All they have to do is sit back and relax while enjoying a movie, sporting event or video game on the big screen.
 Design tip:  Talk to an interior designer about how people plan to use the space in your new or remodeled home. Is there a resident movie buff?  Will someone be cranking Beethoven or the Beatles? Where does everyone gather and what do they like to do? Does there need to be separate entertaining spaces for adults and children?  All of these considerations are important in coming up with a customized smart house design. Partner with us to identify and incorporate just-right home automation technology options.
Download our Smart Home Automation Checklist
Our job is to make your job easier.  Partnering with home builders and remodelers is something we have a lot of experience with and our goal in every interaction is to help you not only meet but exceed your client's expectations.   As such, we've compiled our list of design considerations and questions to ask homeowners into a downloadable PDF.  We encourage you to share, print, and use this resource when meeting with clients.  Have any follow-up questions? Reach out to us directly!
A Smart Home Automation Partner Your Can Trust
With over 30 years of experience, SLH Home Systems has a long and proven history of working with builders and remodelers, helping them design and install smart home, home entertainment, and security system solutions. And our partner company, Che Bella Interiors, picks up where we leave off, helping homeowners navigate through the many decisions involved in the selection process. Together, we're here to help you deliver a seamlessly smooth experience.
Interested in partnering with us?  Contact us today.  From high-tech, automated features and options to design, let us be your got-to-resource to understand how to put smart home technology to work.