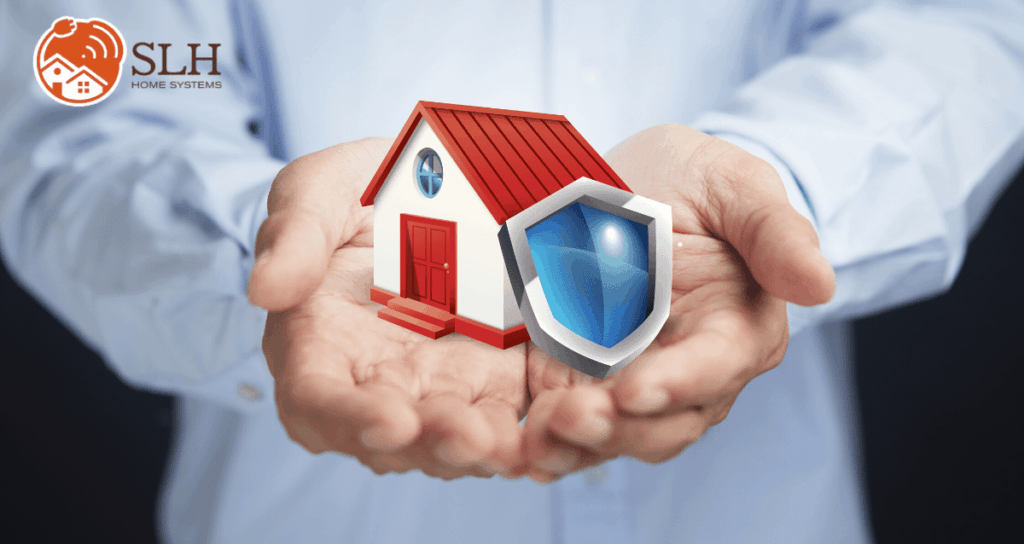 At SLH, we like to equip our customers with the latest information to help them make a decision based on facts, not fiction. Below is a collection of helpful facts and statistics about the home security including what is changing and what homeowners looking to install a home security system should consider.
The Industry
The main and most essential reason to invest in a security system is to deter crime in the home. Approximately 21 million U.S. homes have professionally monitored security. On the residential side, the security and monitoring space has grown substantially in the past few years with homeowners spending more time at home.
The Consumers of Home Security
The main deterrent for people thinking about getting a home security system is the cost, which usually includes a monthly bill and any initial installation products and fees. The majority of security households rely on professional installation channels for the setup and maintenance of their system – only 14% were self-installed.
Among U.S. broadband households with a home security system, the ability to protect one's home while travelling is the top driver for their security purchases. Remote access capability plays an important influence in motivating these purchases – nearly 40% of home security households claim this feature as a key driver for their security ownership.
The Convergence: Smart Home & Home Security
Nearly 43% of US households own at least one smart home device, and nearly 30% of US households have a security system. Many security systems, including those residential security cameras and home security monitoring offered through Minneapolis home security experts at SLH Home Systems, offer interactivity with smart home devices, which can be controlled through smartphones, tablets, and computers.
Smart Home is dominated by security and fuelled by peace of mind that comes from connected home technology. Ninety percent of consumers say security is one of the top reasons to purchase a smart home system. In fact, the most popular smart home devices are networked security cameras. These connected devices have made security the strongest channel for smart home devices and controllers. The more people know about this technology, the more interested and excited they become about incorporating it into their everyday connected lifestyles.
Home Security: Robberies in the Home
Before the Break-in
1. Most break-ins occur between 10am to 3pm
Break-ins usually occur in the daytime when occupants are at school or work. July and August are the most frequent months for break-ins. February is the least frequent for home breaks. In the U.S. a home burglary occurs every 13 seconds.
2. Burglars usually live near your neighborhood
The typical burglar resides within two miles of the target home. In fact, 65% of victims actually new their attacker, only 28% of offenders are total strangers.
Before Entering the Home
1. 60% use forcible entry, 30% enter through unlocked doors and windows
Burglars gain access to a home through force entry, which counts for 60 percent of total burglary. Another is by entering through an unlocked door or window. In fact, over 30% of criminals don't have to do anything special to break into your home; they just walk right in unrestricted or hop through a window.
2. 33 % enter through the front door
Use solid wooden doors or metal doors which are harder to break down. The types of tools used to break in are usually simple; a screwdriver, pliers, pries bars, and small hammers are most common.
3. Homes without security systems are 300% more likely to be burglarized
Burglars check the house first if it has surveillance and alarm systems before attempting to rob the place. According to FBI burglary rates, 1 in 3 homes without a security system will fall victim to a burglary as compared to 1 in 250 homes that do have a security system. According to the Electronic Security Association's "Home Safety Fast Facts" report, 9 out of 10 burglars said that if they encountered an alarm or home security system, they would not attack the home.
4. Burglars will try to cut wires
Twenty-five percent of burglars will attempt to disarm wirings of your phone or any security system you might have. It is best to go for wireless systems.
During the Robbery
1. In 28 percent of burglaries, a household member was present
Seven percent of people who were in the house during the robbery, suffered some form of violence.
2. The master's bedroom is first room to rob
The top things that burglars want from your home are cash, electronics, weapons, and jewellery.
After the Robbery
1. The burglar comes back
A burglar may return to loot the house. Since they already know the layout of the house and where the valuables are kept. Make sure to have a security system installed before another invasion happens.
2. A burglary costs the average homeowner $2,185
This amount exceeds the cost of a basic home security system, not including the emotional damage brought upon the family.
3. Only 13% of robberies are resolved
Only 72.4% of burglaries are reported to police, and only a small portion of that gets the robber caught and convicted.
Your Mendota Heights, MN Resource For Home Security Systems 
SLH Home Systems has been a trusted home security expert serving Mendota Heights, MN, and the entire Minneapolis and St. Paul area, for 34+ years. Contact us today. We are happy to sit down with you for a free in-home consultation to answer all of your questions and educate you further on the various factors that distinguish one security system from another. We specialize in tailoring electronics systems to meet each client's needs and wishes while providing up-to-date information, advice, technology, and installation. In addition to our expertise in home security system design & installation, we also provide energy management services, home theater design & installation, home automation and lighting, and shade control.
Source:
Park Associates Research: The New Face of Home Security
SDM Mag: State of the Market: Alarm Systems
A Secure Life: Security Stats & Facts: What You Need to Know to Stay Safe
IControl Networks: 2015 State of the Smart Home Report
IFSEC Global: Why Home Security is Key to Unlocking the Smart Home's Potential
Photo and content contributed by Ntek.