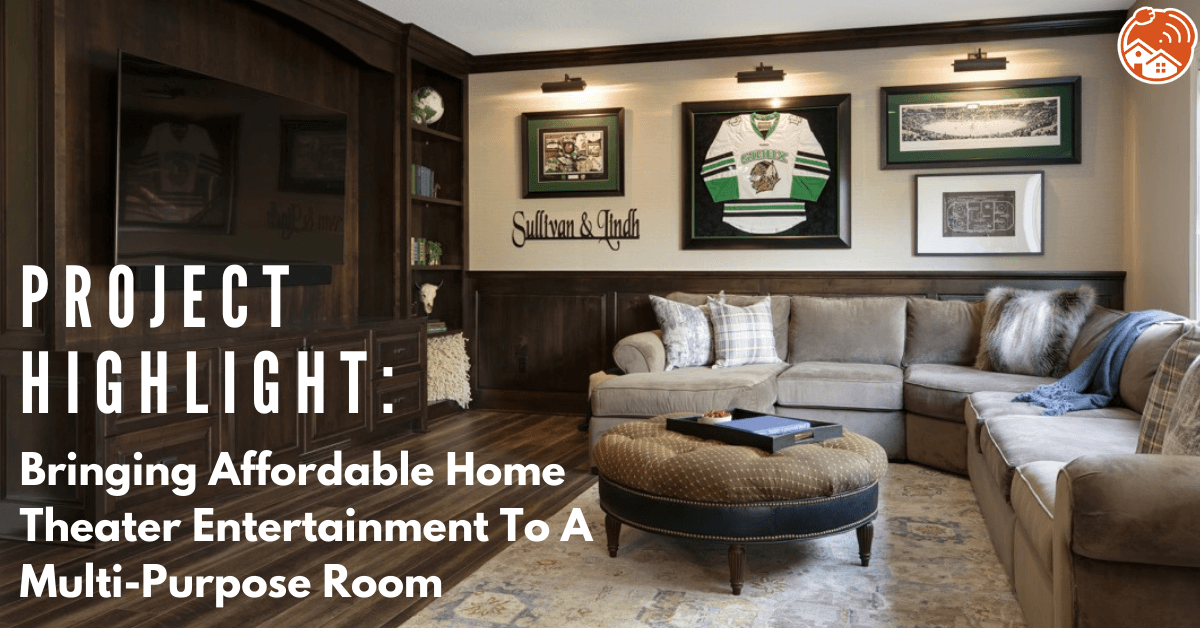 Maximizing every square inch of room in our living spaces is important to today's homeowners – particularly when it comes to our multi-use spaces or lower levels.  There is so much potential and opportunity for remodeling these previously unfinished or under-utilized spaces.  And while the wish list for remodeling these spaces is endless, the demand for high quality yet affordable home theater continues to rise to the top of the list.
At SLH Home Systems, one of the Twin Cities' premier home electronics system design and installation companies, clients are increasingly asking for smart, budget-friendly ideas on integrating state-of-the-art home theater into their multi-use spaces, basements, or lower levels. The good news?  It's very doable, and homeowners have a variety of home cinema and entertainment packages that they can choose from to suit their lifestyle and budget.
Planning for Your Home Entertainment Dreams
The hottest home entertainment features, including widescreen TVs, projection screens, surround sound, one-touch controls, and cinema-quality lighting, are within reach – even in a room that must serve multiple functions. The key is bringing in home entertainment expertise early in the planning process.
We recently partnered with our partner company, Twin Cities' design powerhouse Che Bella Interiors, to incorporate affordable, high-quality home entertainment in a lower-level design project for an unfinished basement in a home near St. Paul, Minn.  The client was looking for a functional lower level with an Irish pub twist. The client initially wanted the layout to mimic the main floor, but by bringing in Che Bella's and SLH's input and expertise early in the process, we modified the design concept with home entertainment top of mind.  The result? A multi-purpose space now centered around a bar and entertainment venue that can be enjoyed from any location in the room.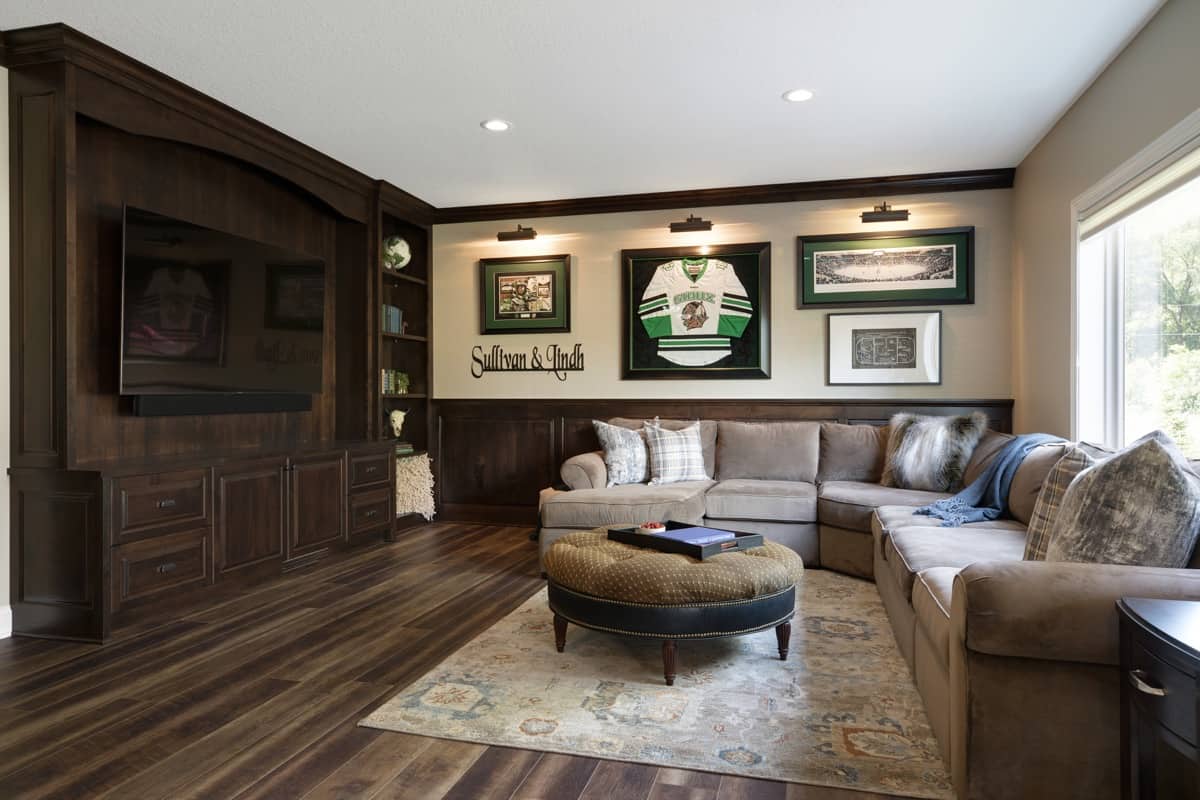 SLH came into the unfinished, multi-purpose space and wired it for a high quality, 5.1 surround sound experience featuring a pair of in-ceiling speakers, sub-woofer and left/center/right (LCR) sound bar that would efficiently project sound from the bar to the family entertainment area.  Even the 65-inch TV, operated with a smart Control4 universal remote with streaming capabilities, was thoughtfully designed to pull out for viewing from the bar seating area.  Every detail was meticulously planned, including the cabinets which were cleverly designed to hide all the wiring and components as to not take away from the overall aesthetic.  Even more thoughtful, the Control4 remote includes capabilities to accommodate future lighting control.
Connecting Beauty, Function & Home Entertainment
Outside of technical aspects, Che Bella's experienced designers brought the pub-inspired feel to life by adding sophisticated details, including brass railings, warm-stained cabinets, an antique-mirrored backsplash, a hammered copper sink, and soapstone counters that will patina over time.   Vintage-inspired lighting and vinyl plank flooring created an aged look while meeting the practical needs of the homeowner's busy family.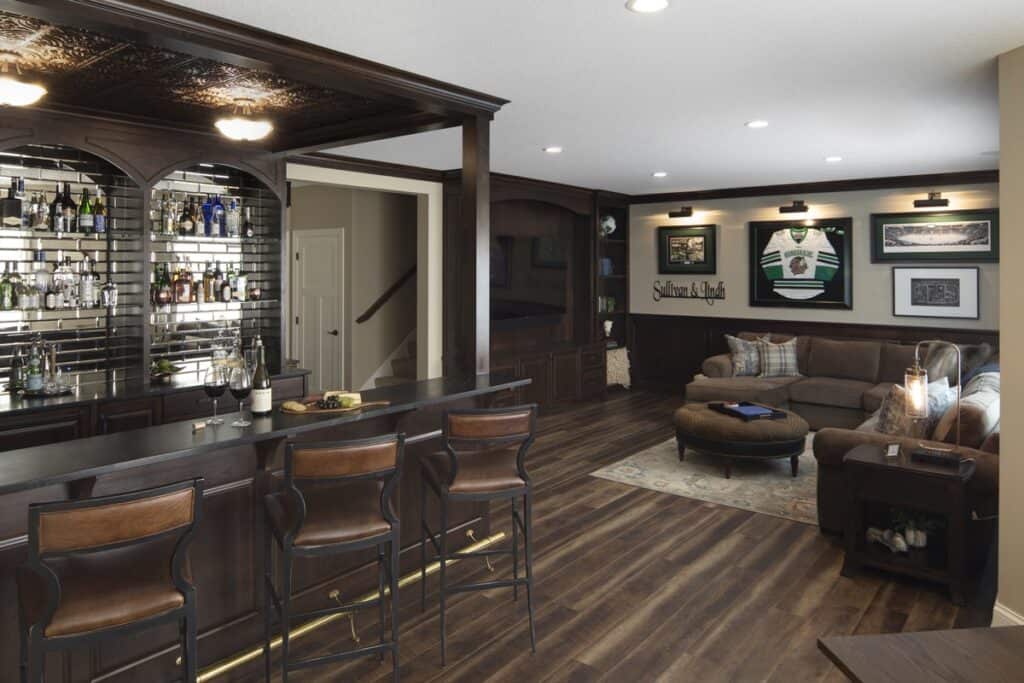 →→  See additional photos and learn more about this lower level design project
SLH Systems – Your Home Theater Design & Installation Expert Serving St. Paul MN & Beyond
Interested in learning more about affordable options to integrate home theater and home entertainment technology into your multi-purpose space or lower level remodeling project?  Contact SLH Home Systems to schedule a free in-home consultation to learn about the options available to you. SLH Home Systems has been a trusted home automation, entertainment, and security expert serving the Minneapolis and St. Paul area for 35+ years. We specialize in tailoring electronics systems to meet each client's needs while providing up-to-date information, expert advice, technology, and installation. Let SLH Systems bring theater-quality entertainment into the comfort of your lower level or any space in your home!