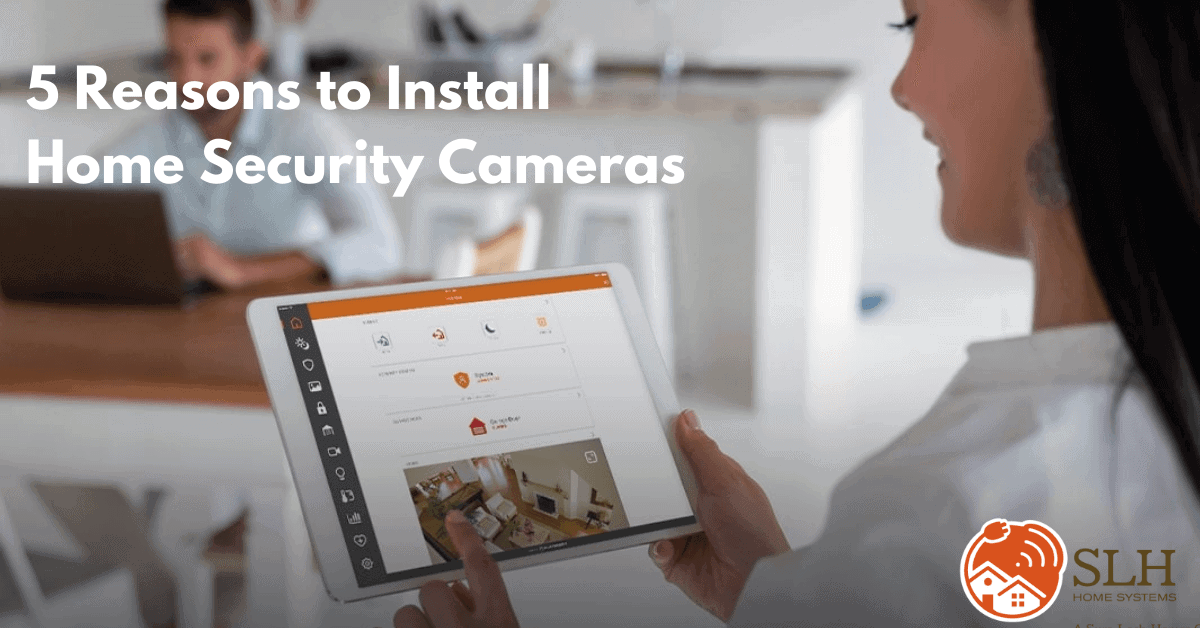 One of the most significant impacts we've experienced as a result of COVID-19  is more time spent at home, and as a result of this, more money spent ON our homes.  During the COVID months of March, April, and May, a study showed that 57% of homeowners invested in one or more home improvement projects. One type of home project seeing a big increase in demand is security system and camera installations. The reason is simple; your home holds your most important asset, your family!  The piece of mind of knowing your loved ones are safe is priceless. But did you know that installing a security system or adding cameras to your existing system offers a host of other benefits?  With smart home technology advancements, security cameras now have superior methods for preventing and identifying intruders and so much more.  Here are five compelling reasons to consider installing security cameras or adding them to your existing system.
1 – Say Goodbye to Front Door Interruptions
Whether you're working from home, have kids doing online school, or you're in the shower (or all of the above), most people dread the doorbell.  Don't let a solicitor, delivery person, or unexpected guests interrupt you.  Install a security camera.  The increased coverage that cameras provide allows you to identify individuals and motion as they approach your door or even pass by your house.
Pro Tip ➼  Add a smart front door lock in conjunction with security cameras.  It allows busy families to control access to their home, including key-less entry for your kids.
2 – Why a Security Sign Is Not Enough
Think a security system sign in your yard is enough to deter would-be thieves?  Think again.  It's an excellent first step, but it's not going to stop a determined criminal until it's paired with cameras.  Effective burglary prevention, whether it's a home or business, requires much more than a fake sign. A working security monitoring system combined with cameras is the best option for ensuring the safety of your family and your home. After all, a sign won't record and deliver live-stream footage of suspicious activity. Catching the act on camera with superb picture quality is often the most effective remedy, and with today's smart security cameras, you can be assured that you have access at the touch of your phone.
3 – Holiday Happiness
Do you love the holidays but dread the to-do list that comes with it?  Thieves know homeowners are distracted by running errands and travel during the holidays, making it prime time to burglarize.  If you're concerned an unshoveled driveway makes your home a target while out of town, a security camera is a great solution.  Cameras give you the confidence that there are "eyes" on your home while you're gone.
Not going anywhere for the holidays due to COVID?  A study found that "package pirates" and attempted larceny is 20% higher in December than all other months combined.  Having security cameras will prevent your home from being targeted for package theft.
4 – Security at Your Fingertips
One of the best aspects of installing security cameras is controlling and accessing them from your smartphone!  With one tap on an app, you can see who's at your door, if your kids made it home safely, and that you didn't leave your garage door open.  Here are some of the many other benefits of having security cameras connected to your smartphone:
Ability to watch and identify people coming and going
Two-way audio so you can speak directly to people at your door
Control locks from anywhere
Set, control, and manage your home security system
Fully equipped security systems can alert you when a smoke detector goes off, power outages or even a water leak
5 – Worry-Free Vacation
Most Minnesotans look forward to leaving our cold winter in hopes of soaking up some sun!  Whether you're a 'snowbird' leaving for a few months or going on spring break for a few days, leaving an empty house can be stressful.  Adding security cameras can give you peace of mind that your home, rental property, or cabin is in good hands.
Pro Tip ➼ A professional installer will do a 'test' layout to ensure your cameras' placement and angles provide optimal coverage.
Your Wayzata, MN Resource For Home Security Cameras & Security Systems
Looking for a partner to help make your home safer with smart home technology?  SLH Home Systems has been a trusted home security expert serving Wayzata, MN, and the entire Minneapolis and St. Paul area, for 35+ years.  Contact us today.  We are happy to sit down with you for a free in-home consultation to answer all of your questions and educate you further on the various factors that distinguish one security system from another. We specialize in tailoring electronics systems to meet each client's needs while providing up-to-date information, expert advice, technology, and installation.  In addition to our superb smart home technology systems, we also offer energy management services, home theater design & installation, home security systems, and lighting, and shade control.